An emerging science of Delivery
Over the past 15 years, a set of techniques for successful implementation in government has begun to emerge, which Jim Kim, president of the World Bank, refers to as a "Science of Delivery." If those techniques could be applied consistently across the world's large school systems, it would dramatically change the world's education landscape.
As a coherent theory of how to make change happen in government, Delivery first emerged in the Prime Minister's Delivery Unit in the United Kingdom, under the leadership of Michael Barber. Since then (and often under Sir Michael's guidance), delivery has been applied in a wide range of countries, including Australia, Brazil, Canada, Malaysia, Mexico, Rwanda, Sierra Leone, Thailand, the United States and others. Since 2011, with Michael's support, the Government of Punjab has applied the same techniques in Punjab, Pakistan, the largest test of the approach so far in the developing world.
From those experiences, a set of lessons about how to successfully reform large school systems is emerging. They suggest that five things will be essential to get every child in school and learning:
Political leadership is essential, but is as much the product of a successful delivery effort as an ingredient for it

Prioritization is the single most important factor determining the success of delivery. Reforms which exceed the system's capacity to implement them are doomed

Data and other measures of progress are essential so that the system knows whether it is making progress, can understand what works, and can tackle underperformance

The speed and effectiveness of the delivery effort depends on the extent to which it can create and spread learning about what works. In most systems, the answers are already out there somewhere, the challenge is to find and spread them

In particular, routines and stocktakes are essential to drive progress and unblock problems as they emerge. A stocktake with the President or Prime Minister on every priority area once every three months can drive the system forward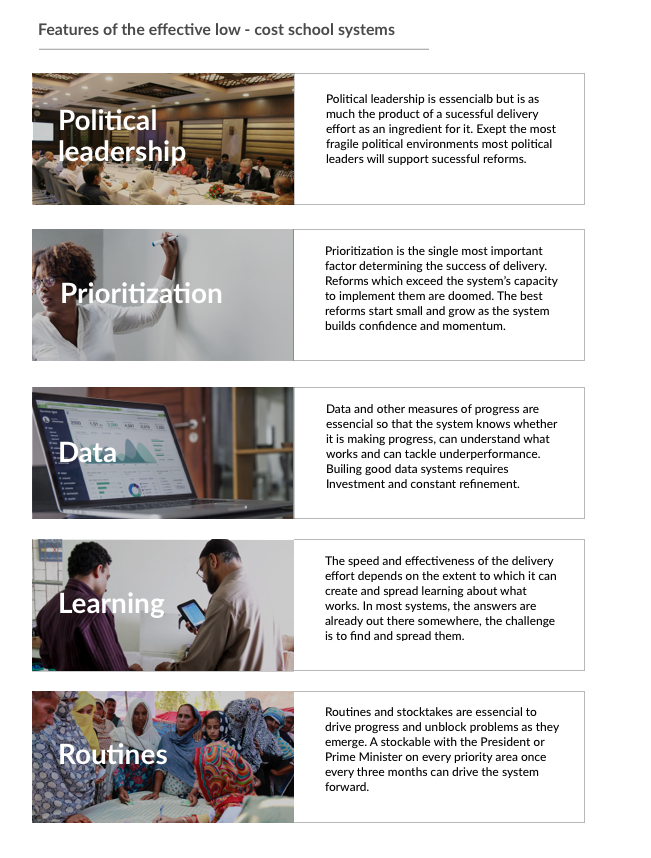 The opportunity today
Ten years from now, two futures are possible. In one, the world's largest school systems continue along incremental paths of improvement. The issues of implementation are not seriously confronted, the policy prescription is not adapted to the needs of the poorest countries and improvement happens slowly, if at all. In this future, hundreds of millions of children will never gain access to the education they need to seize the opportunities of the 21st century.
In the other, the world's largest school systems embark today on ambitious reforms of their schools, based on the emerging knowledge of what works and how to implement at scale. They adapt, refine and build on that knowledge. They work within the real fiscal and other constraints to find the best possible solutions for their systems. And they create a world in which, ten years from now, the promise of education for all is truly becoming a reality.