My role at Acasus is to advise on public health issues across the organizations, including all the countries in which Acasus works and other initiatives or projects, such as evaluations...
Melinda
Hi Everyone, my name is Melinda and this is our monthly podcast session. Today I have a special guest who fills a unique role in the global Acasus team. She is our public health expert advising our consultants on immunization, nutrition and general healthcare related issues. Please welcome Emily Wootton!
Tell me a little bit about yourself - since you are in a unique role, help us understand what exactly do you - as a PHE - do at Acasus?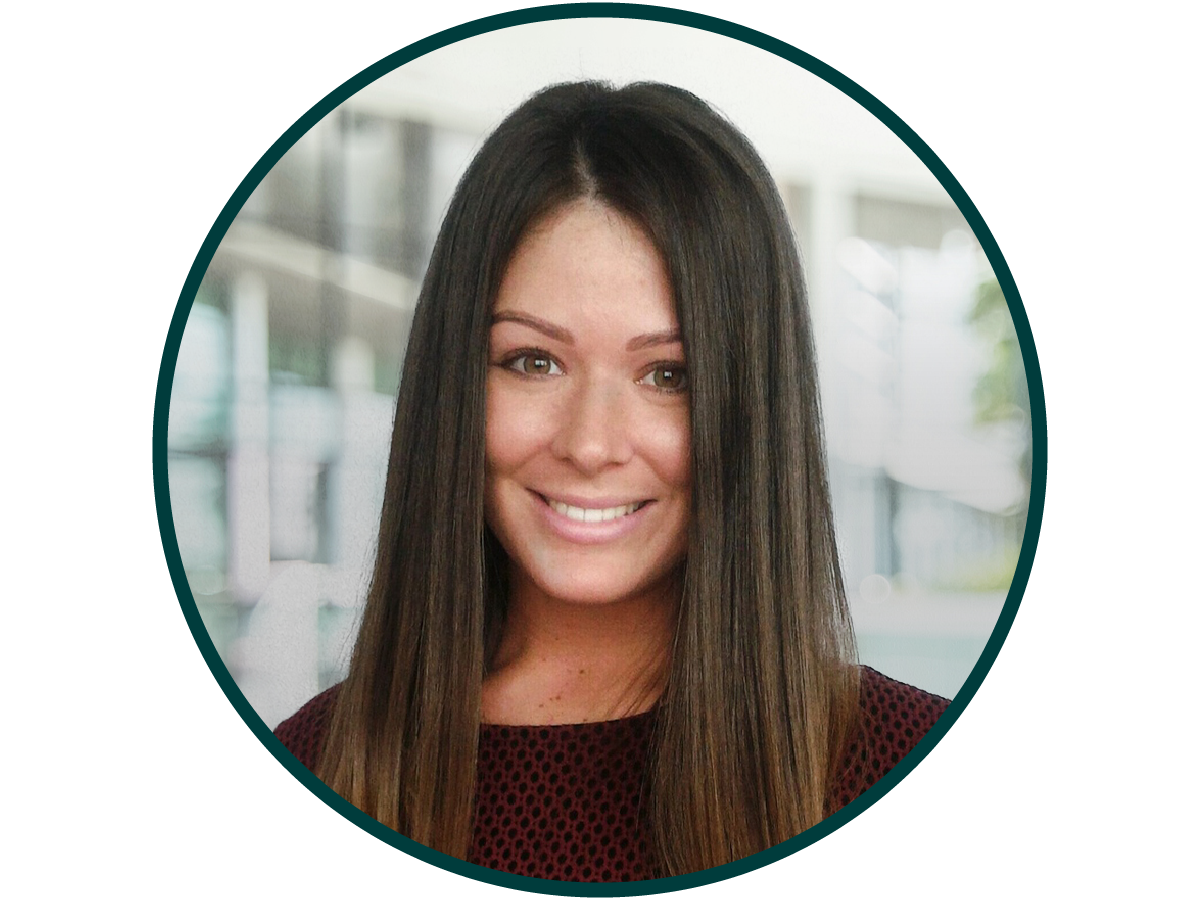 Emily
My role at Acasus is to advise on public health issues across the organizations, including all the countries in which Acasus works and other initiatives or projects, such as evaluations.. The role is pretty broad, covering topics such as immunization (including COVID-19 vaccination), nutrition, polio and also more general topics related to health system strengthening.
Melinda
Well, I'm sure to be able to do that you must have a broad overview on not only those topics you mentioned but also the current/actual situation in the various countries in which we operate. Which are the Acasus countries that you have worked together with/in so far?
Emily
I've been collaborating with many of the Acasus countries so far - Afghanistan, DRC, Ecuador, Ethiopia,Mozambique,Pakistan.... I can give you a couple of examples if that's ok with you?
There is a fairly large team working in Pakistan at both the federal and provincial levels supporting the country across a wide range of health issues. I've been helping to provide technical advice to the team on topics such as polio, health systems strengthening and immunization, with a large focus on COVID-19 vaccination. Team members come to me with specific questions that I can help them to research or with requests to discuss projects or review specific documents.
I've also been working with the team in Afghanistan to provide inputs to a health survey and briefings on health topics and existing tools published by other organizations, such as WHO.
In addition to working with specific countries, I've also been supporting the work Acasus is doing on COVID-19 vaccination and an evaluation of a global vaccination initiative.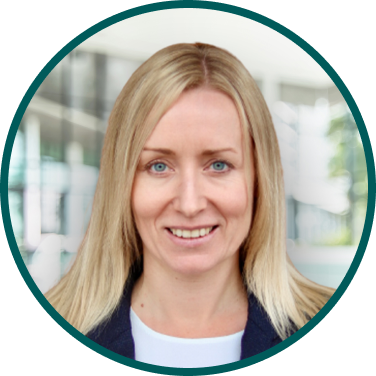 Melinda
Sounds like you really are involved in all of the projects that we have going on regardless of their focus - What do you see are the most frequent questions that come up in public health nowadays especially in low- and middle-income countries?
Emily
The obvious topic right now is how to respond to the COVID-19 pandemic, both in terms of the best way to tackle it using our available tools, but also how to keep other essential services going, such as routine immunization, and how to adapt them to be carried out safely in the current context.
It's really important that the health gains that have been made in recent years do not backslide as attention and funding moves to addressing the pandemic. Even a short interruption in routine immunization services can lead to immunity gaps and potential outbreaks, such as measles.
Apart from COVID-19, an important topic for low and middle income countries (in fact for all countries) is how to maximize the health status of their populations with the available resources. The work that Acasus is doing is important in this context, as Acasus uses simple technology, combined with improvements in management techniques and accountability to bring about real change for a relatively small cost, for example through improved monitoring of facilities or immunization programs.
Melinda
Right. And since you brought it up - as it's one our most recent challenges - the rollout of Covid-19 vaccines - let's talk about the differences re covid in the low- and middle-income vs the high income countries across the world.
Where are we at the moment?
Emily
For people working in vaccination, the past year has been incredibly exciting and the fact that we have multiple proven COVID-19 vaccines within a year of the pandemic being declared by WHO is amazing!
While the first big challenge of vaccine development has been met, the next challenge is the manufacturing, distribution and use of the vaccines all around the world. As Dr. Tedros, the head of WHO puts it "none is safe until everyone is safe".
While we're already seeing some inequitable distribution of COVID-19 vaccines with richer countries having bought up more supplies, we also have the COVAX Facility. It is an initiative that is being managed by Gavi, the vaccine alliance that is aiming to distribute 2 billion vaccine doses in 2021 and is focused on ensuring equitable access. The countries with the fewest resources receive COVID-19 vaccines for free for around 20% of their population. Ghana and Cote d'Ivoire were the first two countries to begin vaccinating with the COVAX procured vaccines on 1st March. In fact, I was just looking at the website earlier today, and was impressed to see that "COVAX has now shipped over 12 million COVID-19 vaccines to 19 countries in just 10 days". In addition, many low and middle income countries have also managed to secure their own COVID-19 vaccine supplies and have already begun vaccinating.
An interesting website is called "Our World in Data" and they have been tracking vaccination progress around the world. While globally there have been around 4 COVID-19 vaccine doses administered per 100 people, this is unevenly spread with North America at 16 per 100 people, Europe at 10 per 100 people and South America, Asia and Africa at 4, 2.4 and 0.37 respectively.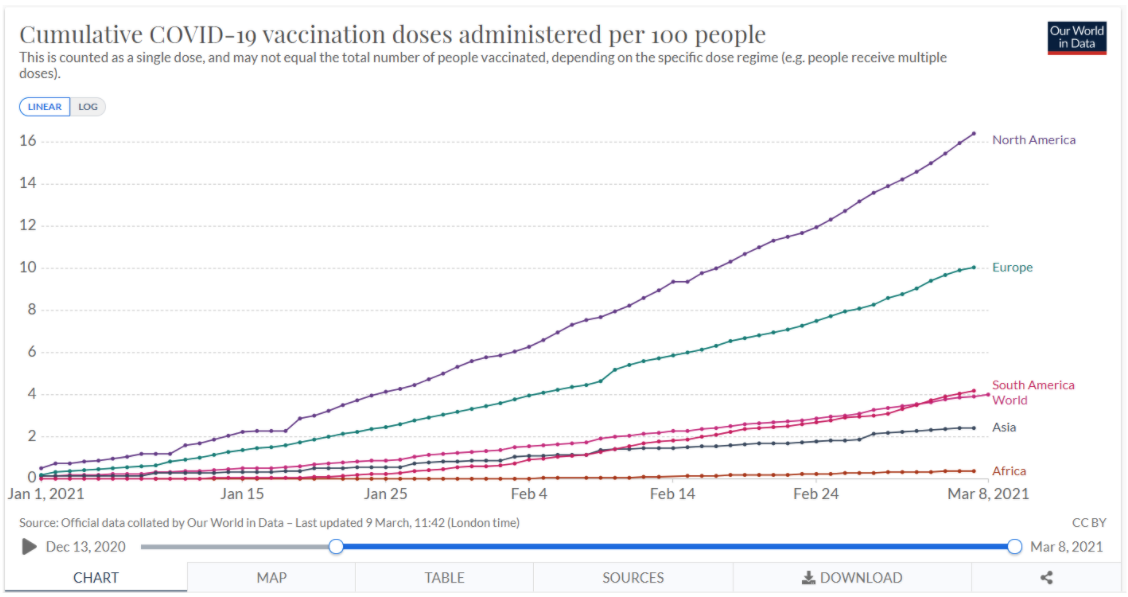 Melinda
Well, those are really striking numbers which I guess have a lot to do with the different challenges around the cold chain and not just the number of vaccines available. Tell me a bit about the main challenges of the vaccine rollout.
Emily
One of the key challenges has been the speed of the rollout. Countries have had to find huge sums of money in a short period of time to fund not only the vaccines, but also the operational costs associated with the rollout of the vaccines e.g. storage, transportation, health worker training etc. Luckily there has been a huge amount of political support for the vaccination programme and this doesn't seem to have been a significant problem so far.
Other challenges have been ensuring that the cold chain is sufficiently expanded to accommodate the large number of vaccines - and some vaccines even need to be kept in what's called the "ultra cold chain" (around -70 degrees celsius). This posed a particular problem for low and middle income countries that may not typically have this type of cold chain infrastructure available for use.
One interesting challenge has been the need to rapidly develop vaccination strategies to reach groups of people not usually reached by vaccination programs (given they largely focus on infant vaccination), such as health workers, people with co-morbidities and people in care homes.
Melinda
When do we expect low- and middle-income countries to be fully vaccinated, predictably?
Emily
This is a difficult question to answer as it depends not only on how many people the countries plan to vaccinate, but also the scale up of manufacturing. An interesting analysis by the Economist Intelligence Unit indicates that the bulk of the adult population of advanced economies will have been vaccinated by mid-2022. However, this timeline extends to early 2023 for many middle-income countries and as far out as 2024 for the poorer economies. This inequity is problematic for many reasons - particularly because the lower income countries will have fewer resources to respond to the pandemic and non-vaccination control measures e.g. quarantine, contact tracing etc will likely be more difficult to implement.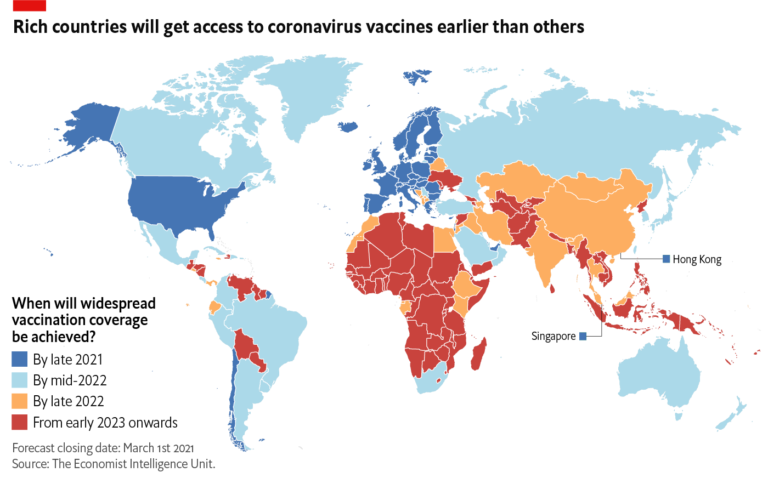 Predictions for achieving widespread vaccination coverage (Economist Intelligence Unit, 27 Jan 2021): Methodology: This map depicts the latest forecasts from The EIU for the rollout of coronavirus vaccines, reflecting the time when countries may expect to have vaccinated the majority (60-70%) of their adult population. Criteria taken into account include supply deals, production constraints, vaccine hesitancy, the size of the population, and the availability of healthcare workers. The data are also adjusted by analysts to reflect specific conditions on the ground.
Melinda
Literally every one of your sentences are so insightful and thought-provoking that I could go on and ask another hundred questions to pick your brain.. But since our time is almost up I want to ask you something a bit more personal - what do you like most about this role, what is unique in this role and in the Acasus management/teams/approach?
Emily
I really appreciate that Acasus places a lot of emphasis on supporting the delivery aspects of their projects, not just simply on providing new tools - this is an area that I believe is frequently overlooked in many international development projects. Acasus's approach is relatively simple, we focus on designing and deploying new tools and processes, improving monitoring and management, and implementing simple but effective solutions to problems on the ground.
I've found my Acasus colleagues to be highly motivated, flexible and focused on achieving measurable results. A great example being the impressive 35% increase in immunization rates in Punjab, Pakistan's largest province (baseline of 49% in 2014 to 84% in 2017).
The work is not always easy, especially when advising on complex issues with no easy answers, but it is rewarding. I find it very motivating to be part of a team making a real difference to health care availability and access in low- and middle-income countries. I'm looking forward to experiencing what new challenges, achievements and ideas the coming months will bring!
Melinda
Yes, absolutely! Emily, it was so great talking to you today, thank you so much for sharing your time with me. I'm very excited to see what this year holds.
Tune in for the original podcast here!