In 2017, only 1 out of 3 children was fully immunized in the Democratic Republic of the Congo, while 1 child out of 5 didn't receive any vaccines (MICS Survey).
In the last three years, all provinces of DRC reported cases of measles, while 60% of the 26 provinces (including Haut-Lomami and Tanganyika) reported cases of polio.
Three elements are critical in understanding the high number of zero-dose and under-immunized children in DRC: low population density; lack of transportation means in rural areas; and poor population data quality.
Acasus has worked with partners to provide innovative satellite-based data maps to help vaccinators build efficient and equitable vaccination strategies.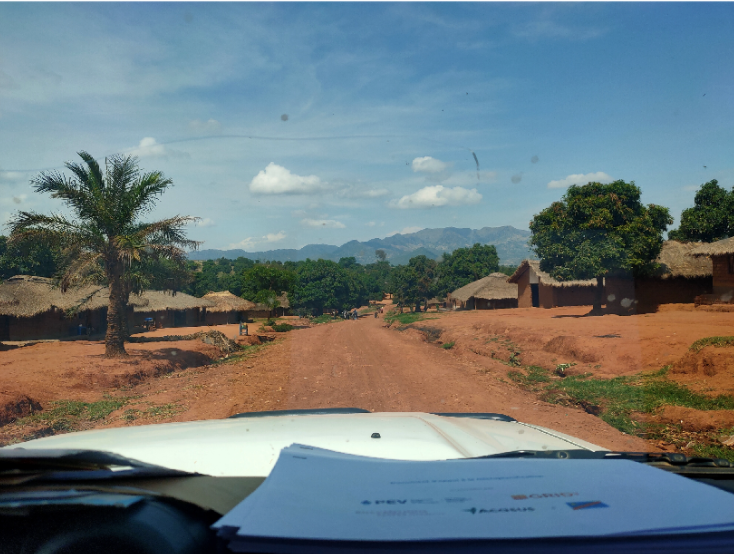 Village in Kansimba Health Zone, Tanganyika
DRC has one of the lowest population densities in the world
The second largest country in Africa, DRC ranks 196th worldwide in population density. Some villages are days away from the closest health center, and health centers often have limited staff and very few resources to reach those populations.
Health area managers also struggle with poor quality or missing data (villages listing, population). They are required by the Ministry of Health to fill in several time-consuming templates each year during the annual micro-planning process - but for nurses in rural areas, building a realistic strategy to deliver vaccines to all children is nearly impossible.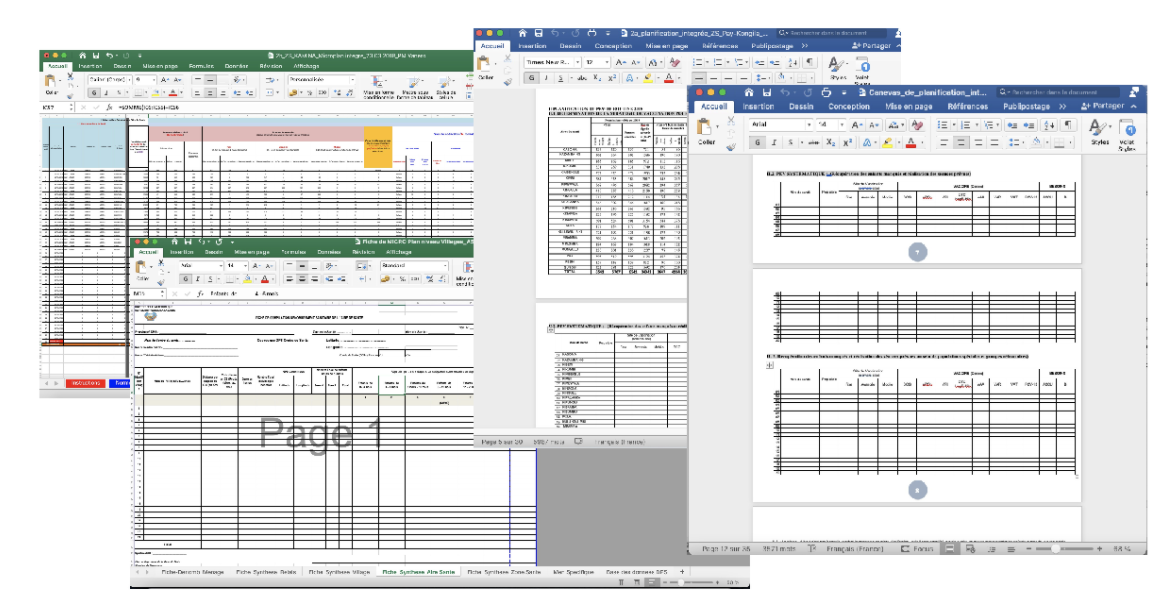 Screenshots of the multiple templates the health area managers need to fill in each year for micro-planning
Manually drawn maps being used in the health centers, Moba, Tanganyika
Acasus and its partners are helping healthcare workers with 600 semi-automated micro-planning documents
In partnership with the Expanded Immunization Program (EPI) and the Bill & Melinda Gates Foundation (BMGF), Acasus and the GRID3 (Geo-Referenced Infrastructure and Demographic Data for Development) Mapping for Health team have designed and generated semi-automated micro-planning documents. Over 600 documents were generated - one for each health area and health zone in two provinces of DRC.
These documents leverage a precise mapping of the health areas - settlements locations and names, health areas limits and health facilities - conducted by the Center for International Earth Science Information Network (CIESIN) at Columbia University. WorldPop, a research program at the University of Southampton (UK) also uses geospatial datasets derived from satellite imagery to identify all settlements and build population estimates. These key datasets feed into a site placement optimization algorithm developed by Flowminder (Swedish non-profit foundation).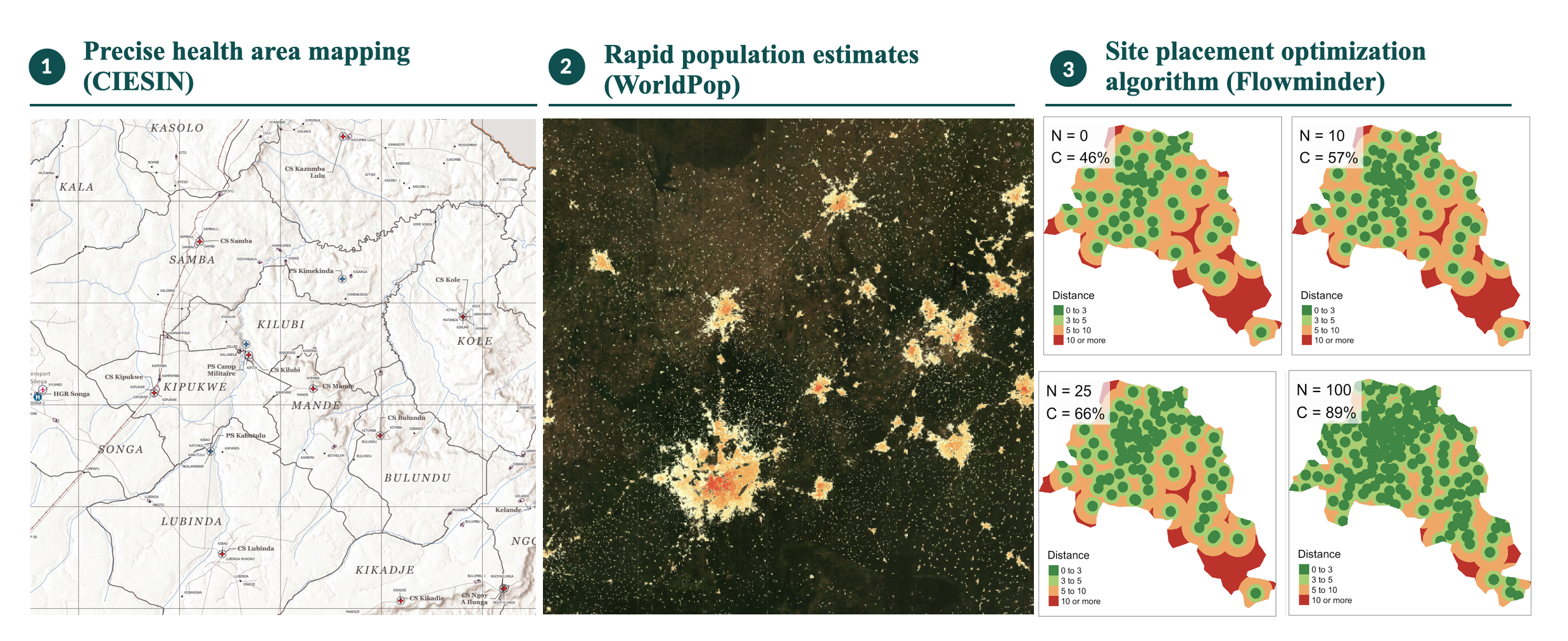 These micro-planning documents leverage a detailed mapping of the health areas, some rapid population estimates and a site placement optimization algorithm
A preliminary draft of these documents was first generated for the local and central EPI teams to provide feedback. Borders, fixed vaccination sites and village names were validated and updated in partnership with local stakeholders. The key parameters of the site placement algorithm were also discussed and validated.
The micro-plans help vaccinators build efficient and equitable strategies
The micro-plans provide local healthcare workers with realistic guidelines on how to best serve their population considering the limited resources (e.g. quarterly sessions recommended for communities that have less than 1,000 inhabitants, according to WHO guidelines). They suggest where and when to conduct vaccination sessions in order to cover the full population.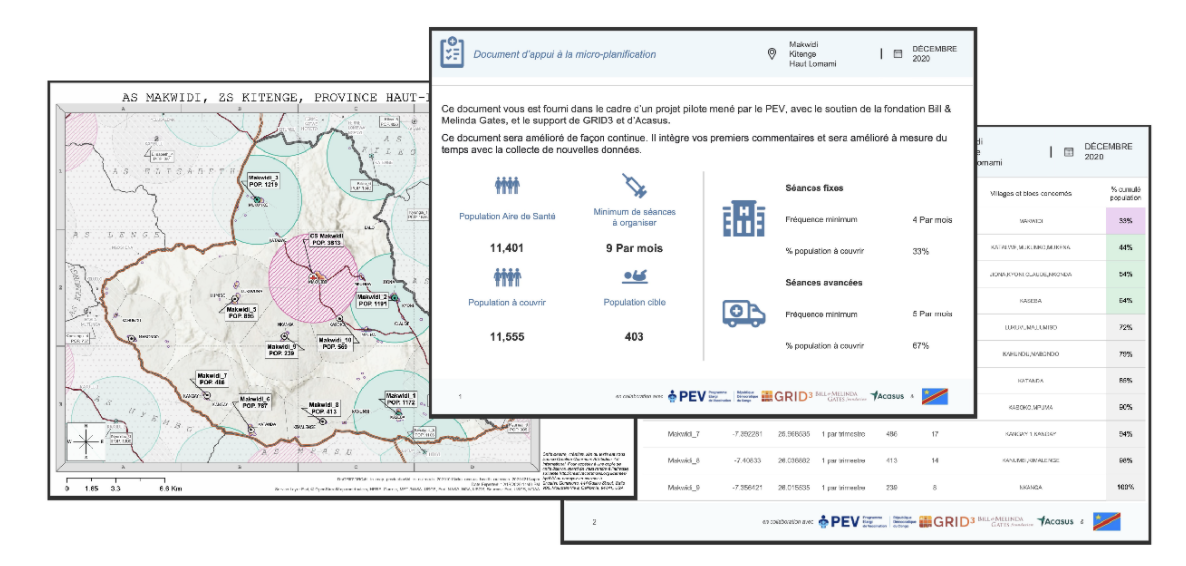 The Acasus and Grid3 semi-automated micro plans include fixed facility location, recommended outreach vaccination, population estimates, names of villages covered and minimum frequency for each site
They include fixed facilities' location, as well as outreach vaccination sites recommended by the placement algorithm to cover the full population. They include the total and target population for each site, as well as a minimum recommended session frequency based on population size. Summary dashboards were generated for each health zone and province to give health zones and provincial managers an overview on the situation of each health area.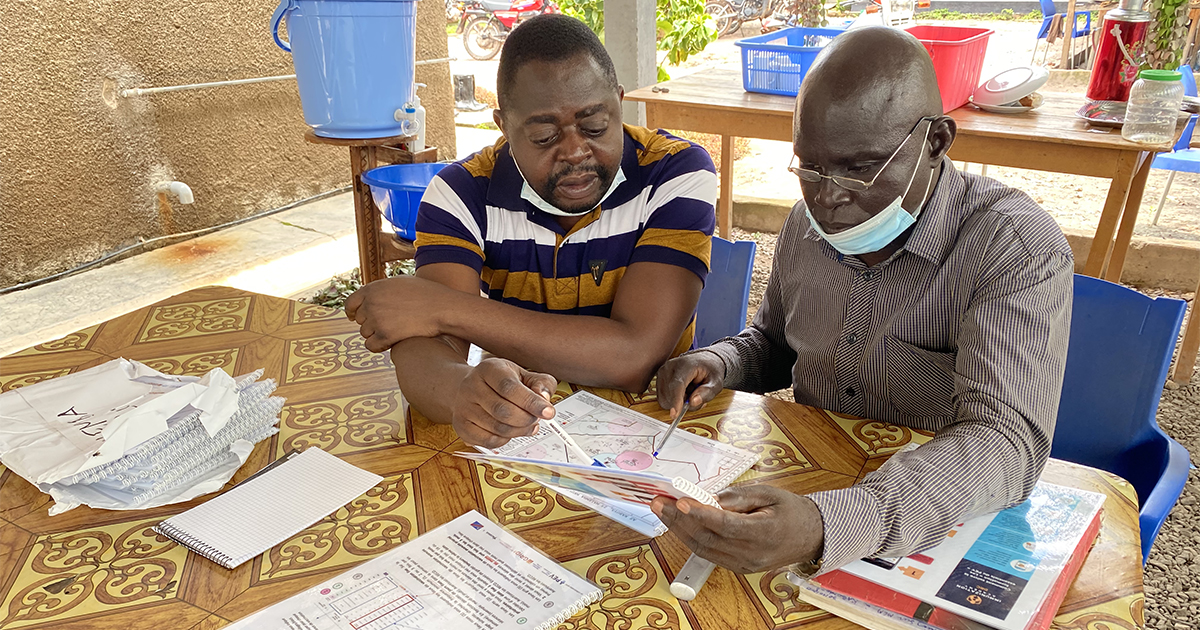 Health zone manager and immunization supervisor reviewing the micro-planning documents in Haut-Lomami
The documents have been very well received by the local and central teams. A survey administered found that over 90% of the local healthcare workers would like semi-automated micro-plans to replace their current micro-planning process.
They have also shown that the micro-plans are helping to address issues linked to equity and "zero dose". The micro-plans are now being used as guiding documents in 600 health areas. In many cases, it was found that the local staff was unfamiliar with the sites suggested to cover communities that had less than 1,000 inhabitants (60% of the sites needed to cover 20% of the population in Tanganyika). The micro-plans help identify populations that would normally not benefit from vaccination services.
Vaccinators using the sms tracking application to report data on one vaccination session in Kalémie, Tanganyika
The development of these micro-plans is part of a broader project - the EPI Vaccinator Tracker Project
This project is being piloted in two provinces of the DRC, Haut Lomami and Tanganyika. Improving vaccine delivery strategies through semi-automated micro-plans is only the first of three objectives.
The project also aims to implement a vaccination session-tracking system. A mobile application used by vaccinators to send data via SMS after each vaccination session has been developed by Acasus. Dashboards comparing the objectives from the micro-plans and the data collected through the vaccinator tracker application will be shared on a weekly and monthly basis with health zone managers to identify potential gaps in the immunization services provided on the field.
The third objective of the project is to improve the quality of vaccination services. Acasus supported Immunization Academy in developing and implementing a mobile application to provide video-based on-the-job training to more than 2,000 vaccinators. The application provides 52 pre-loaded tests and video lessons covering all critical skills related to immunization. The training solution includes a dashboard for managers, showing the progress and performance of learners, enabling managers to target their supportive supervision efforts.
Health zones managers watching the IA Learn videos during the workshop in Kalémie, Tanganyika
Both applications were rolled out in 732 health centers in March 2021. Weekly and monthly dashboards are now being sent to local managers. An assessment will be conducted in the summer 2021 to measure the results, highlight key lessons learned, and consider expansion to new provinces.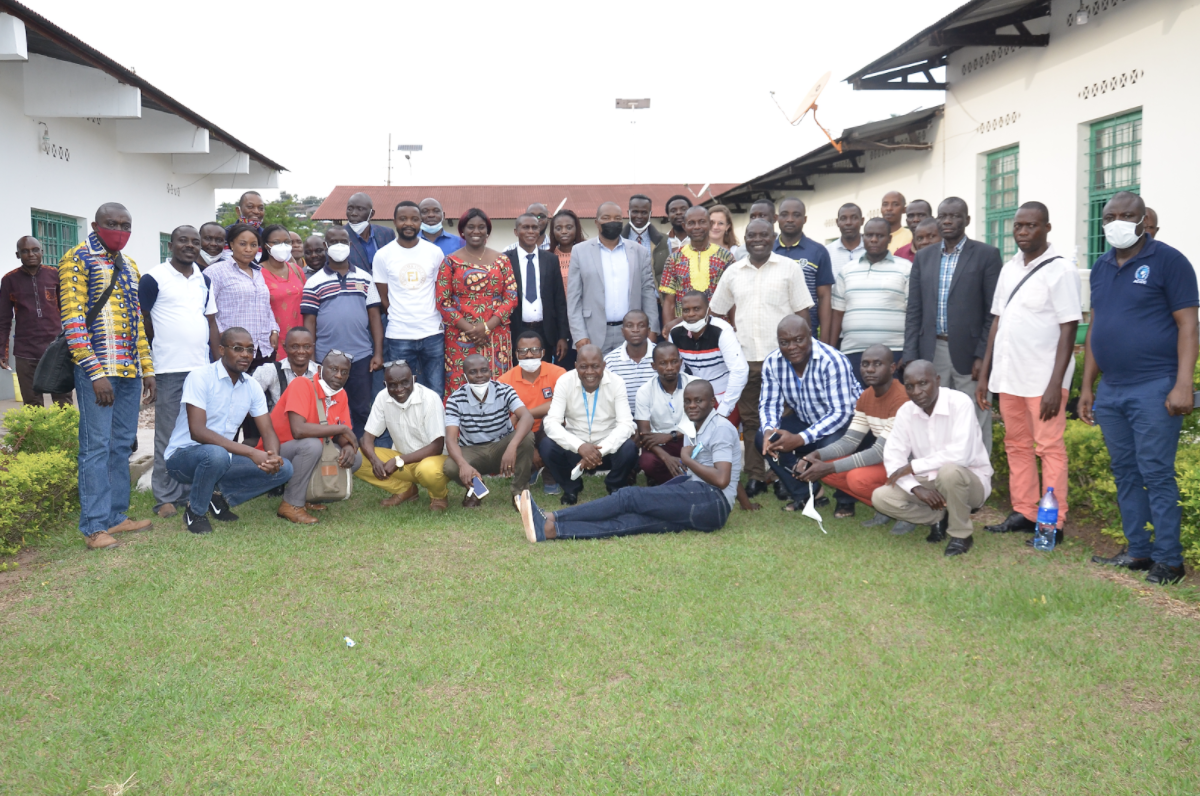 Workshop in Kalémie, Tanganyika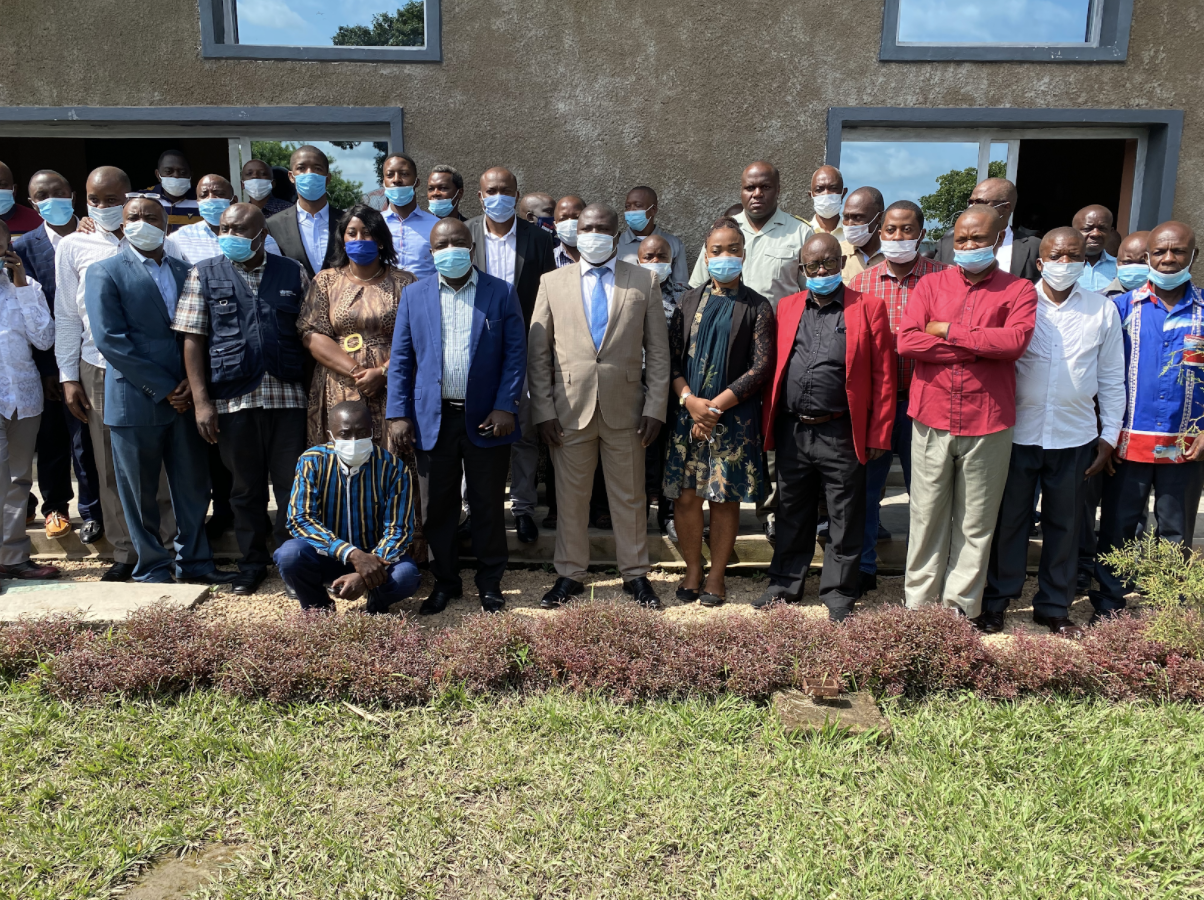 Workshop in Kamina, Haut-Lomami